CSR
administrator
In order to realize the vision and mission of the Company, through the Asuransi Astra Peduli (Empowerment and Service for the Environment), throughout 2016 we have been carrying out activities that support the social, environmental, and economic sustainability. These activities include education, health, environment, and community empowerment are grouped into two major events, namely charity activity and income generating activity. Charity activity dedicated to humanitarian activities and increase social sensitivity. While income generating activity is an activity to empower the disadvantaged communities that can be independent so as to provide a positive economic impact to the surrounding environment.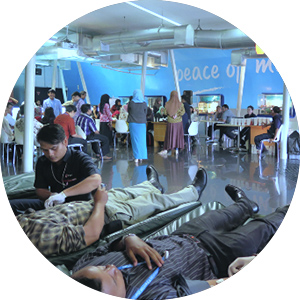 Blood Donation
To support the Indonesian Red Cross (PMI), during 2016 we have carried out seven blood donation events in Jakarta and managed to collect 1,120 bags of blood.
Development of Maternal and Child Health Care
To raise awareness of health, we continued the maternal and child health campaign that is more focused on child development. We provide facilities for children and adults scales, screening kits, blood pressure measuring devices and height, and a plastic container box for 62 Posyandu in Cilandak, Jakarta. In addition we also provide a donation of additional food for two posyandu in Lebak Bulus, Jakarta and 11 posyandu in Kemijen, Semarang.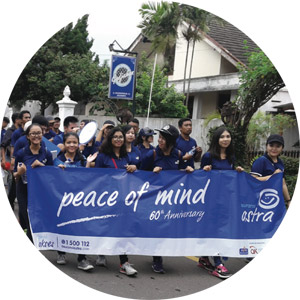 Financial and Education Literacy
In support of the Financial Services Authority (OJK), during 2016 we conducted education and financial literacy activities, especially about the importance of insurance for 3,470 participants spread across 10 cities of Bogor, Tangerang, Surabaya, Cilegon, Bandung, Jambi, Cirebon, Jakarta, Pekanbaru and Makassar. Expected participants can pass on knowledge from the activities to the people surrounded by so they can be more insurance literate.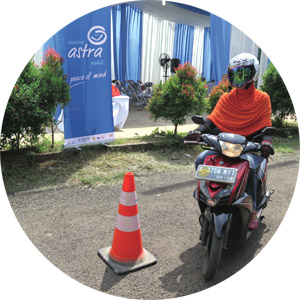 Safety Driving Education
Throughout 2016 we've been held 26 times Safety Driving education (Always Drive Safely/Always Ride Safely) in Bogor, Jakarta, Tangerang, Jambi, and Cilegon aimed at various groups such as automobile and lifestyle community, activists SMEs, women, and students. For school students, in order to welcome the 60th anniversary of Astra, Astra Safety Fest were held for 600 high school students/equivalent in Jakarta. In these activities, in addition to providing socialization and educational safe driving, we also facilitate the making of SIM C (Motorcylce Driving Lisence) for the students. This activity is a synergy between Asuransi Astra with nine other companies in Astra Financial Services Group.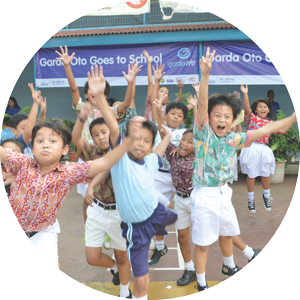 Scholarship
In 2016 the Company has provided scholarships to 126 people. The scholarship awardee are students from elementary school to college students.
Library Development
We supervised to 11 libraries located in Bogor, Tangerang and Jakarta. Development activities include the provision of books, facilities, repair facilities, library management training, and support social activities. In 2016, we provide education safely in traffic to its visitors eight libraries built namely Community Library (Taman Bacaan Masyarakat – TBM) Warabal, TBM Matahari, Anak Kaso Library, Children Library Al Firdaus, Melati Library, Griya Asih Shelter Library, Pustaka Prima, and RPTRA (Ruang Publik Terpadu Ramah Anak) Library Mawar.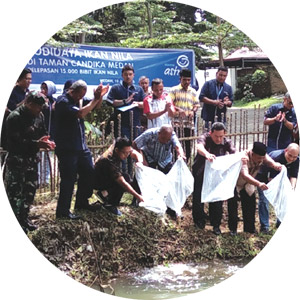 Branch CSR
In celebrating the Company's 60th anniversary, we held our Corporate Social Responsibility (CSR) simultaneously in all branch offices spread throughout Indonesia. Each branch office create a different activities that are tailored to the needs of local communities such as sowing seeds of fish, improve toilet facilities, empowerment of SMEs, manufacturing facility trash cans from used tires, and more. Not only as a form of social responsibility, CSR is also intended as a thank you for the support of our local community over the years.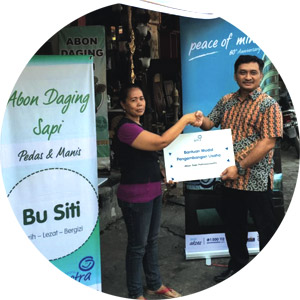 Development of MSMEs (Micro, Small, Medium Enterprises)
Income generating activity is manifested in the form of development of micro, small and medium enterprises (SMEs) with a focus on helping disadvantaged communities in the form of aid or capital increase, as well as assistance in the form of training or continuing education so that SMEs increasingly advanced. There are 91 new SMEs assisted by the Company in 2016 in Jakarta, Yogyakarta, Palembang, Balikpapan, Medan, and Surabaya.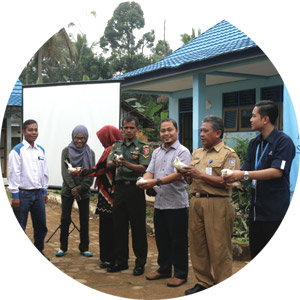 Enviromentally Friendly Program
In 2016, the Company continued the program Clean and Healthy Neighborhood (Lingkunganku Bersih dan Sehat) in nine cities. The program includes planting of 500 serai wangi trees in Jakarta, relief 20 latrines in Makassar, clean water supply in Yogyakarta, a garden in Cirebon, race recycle unused goods in Denpasar, planting 60 trees and educate environmentally friendly in Banjarmasin, manufacture waste bank and pharmacy living in Bogor, environmental activities peace of mind in Manado, as well as the activities of the Clean Healthy and Smart Neighborhood in Bandar Lampung. In addition, we also launched and developed Karina (Kampung Ramah Lingkungan Asuransi Astra). The first Karina (2015) is in Pela Mampang, South Jakarta, it's second and third (2016) was in Merbabu Asih, Cirebon and Pela Mampang, South Jakarta. At the same time, the program is also fulfill the wishes of local residents for a beautiful and comfortable environment.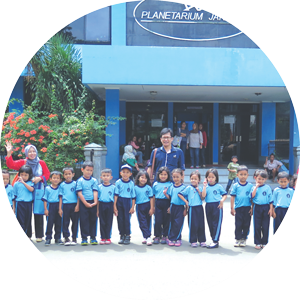 Operational Support for the Kasih Anak Kanker Indonesia Foundation
We continue to maintain care for children with cancer. Through the Kasih Anak Kanker Indonesia Foundation, the Company provides insurance for operational vehicles foundation to facilitate various activities and mobility.