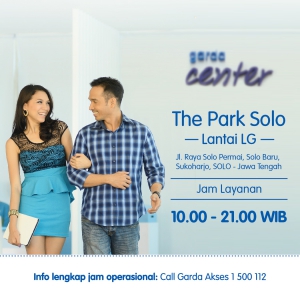 Garda Center selalu berupaya meningkatkan kualitas layanan untuk kepuasan pelanggan. Salah satunya adalah dengan kemudahan menemukan lokasi Garda Center. Setelah sebelumnya hadir di The Park Solo lantai GF, mulai Kamis, 17 Desember 2015 Garda Center resmi pindah ke lantai LG, lebih mudah dijangkau oleh customer.
Garda Center The Park Solo siap melayani selama tujuh hari dalam seminggu sesuai jam operasional mal. Untuk itu, pelanggan yang memiliki kepadatan aktivitas di hari kerja, tetap dapat melakukan klaim di akhir pekan bersama keluarga atau teman. Tidak hanya melayani klaim, petugas Garda Center pun dengan ramah akan melayani pelanggan yang memerlukan informasi produk Garda Oto dan juga melakukan penutupan polis (membeli polis baru).
Kehadiran Garda Center The Park Solo menunjukkan bahwa Garda Oto dari Asuransi Astra berkomitmen untuk memberikan "Peace of Mind" bagi para pelanggan.